Posts for: September, 2021
By Cromeyer Dental Care
September 20, 2021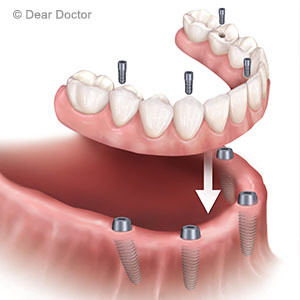 Losing all your teeth can dramatically impact your life for the worst. Fortunately, we can give you your "teeth" back. The most common way, at least until a few decades ago, is with custom dentures, which reasonably restore life-like appearance and dental function. But it does have one major drawback—it can't stop bone loss.
Loss of bone in the jaws often occurs with missing teeth. Normally, the bone continuously generates newer cells to replace older ones that have died. Chewing stimulates this growth as the force generated travels up through the teeth to the bone. But when teeth go missing, new bone growth slows, eventually causing the bone's volume and density to decrease.
Dentures can't reactivate this lost stimulation, and so bone loss may continue. Dentures even accelerate this loss as the compressive forces applied to the bony ridge are detrimental. This often leads to a "loosening" of a denture's fit that can make them uncomfortable and less secure to wear.
Today, however, patients with total tooth loss have another option that could alleviate the problem of bone loss—dental implants. Since their inception forty years ago, implants have become the preferred method of both dentists and patients for tooth replacement.
Implants consist of a titanium metal post that's surgically imbedded into the jawbone. Bone cells are attracted to this particular metal, readily multiplying and adhering to the implant's titanium surface. Because of this, an implant can slow or even stop bone loss.
Most people are familiar with the single tooth implant with an attached lifelike crown. Although this use of implants could be used to restore total tooth loss, it can be quite costly replacing over two dozen teeth individually.
But implants could still be part of the answer for someone with complete tooth loss, because they can also be used to support traditional restorations. A few implants strategically placed around the jaw can support either a removable denture or a fixed bridge.
Besides being a cost-effective way to add support to these traditional tooth replacements, the inclusion of implants will likely decrease continuing bone loss. Most importantly, it can give you back your dental function—and your smile to boot.
If you would like more information on dental implant options, please contact us or schedule an appointment for a consultation. You can also learn more about this topic by reading the Dear Doctor magazine article "New Teeth in One Day."
By Cromeyer Dental Care
September 10, 2021
There are plenty of hilarious videos of groggy patients coming out of wisdom teeth surgery to keep you occupied for hours. While many of these have turned everyday people into viral video stars, every now and then it really is someone famous. Recently, that someone was Seattle Seahawks quarterback Russell Wilson.
The NFL star underwent oral surgery to remove all four of his third molars (aka wisdom teeth). His wife, performer and supermodel, Ciara, caught him on video as he was wheeled to recovery and later uploaded the clip to Instagram. As post-wisdom teeth videos go, Wilson didn't say anything too embarrassing other than, "My lips hurt."
Funny videos aside, though, removing wisdom teeth is a serious matter. Typically, the third molars are the last permanent teeth to erupt, and commonly arrive late onto a jaw already crowded with other teeth. This increases their chances of erupting out of alignment or not erupting at all, remaining completely or partially submerged within the gums.
This latter condition, impaction, can put pressure on the roots of adjacent teeth, can cause abnormal tooth movement resulting in a poor bite, or can increase the risk of dental disease. For that reason, it has been a common practice to remove wisdom teeth preemptively, even if they aren't showing any obvious signs of disease.
In recent years, though, dentists have become increasingly nuanced in making that decision. Many will now leave wisdom teeth be if they have erupted fully and are in proper alignment, and they don't appear to be diseased or causing problems for other teeth.
The best way to make the right decision is to closely monitor the development of wisdom teeth throughout childhood and adolescence. If signs of any problems begin to emerge, it may become prudent to remove them, usually between the ages of 16 and 25. Because of their location and root system, wisdom teeth are usually removed by an oral surgeon through one of the most common surgeries performed each year.
This underscores the need for children to see a dentist regularly, beginning no later than their first birthday. It's also a good idea for a child to undergo an orthodontic evaluation around age 6. Both of these types of exams can prove helpful in deciding on what to do about the wisdom teeth, depending on the individual case.
After careful monitoring throughout childhood and adolescence, the best decision might be to remove them.  If so, take it from Russell Wilson: It's worth becoming the star of a funny video to protect both current and future dental health.
If you would like more information about wisdom teeth removal, please contact us or schedule a consultation. To learn more, read the Dear Doctor magazine article "Wisdom Teeth."