Posts for tag: dental cleanings
By Cromeyer Dental Care
May 28, 2020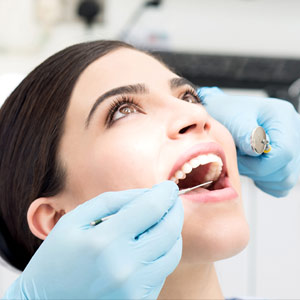 Dental cleanings are an important part of regular dental office visits. Performed by a dental hygienist or dentist, cleanings serve two purposes: to remove bacterial plaque and calculus (hardened deposits of plaque) from tooth surfaces missed during daily brushing and flossing; and to remove stains that can dull your smile.
There are different degrees of cleaning, including root planing that removes plaque and calculus deep below the gum line, usually for patients affected by periodontal (gum) disease. For patients in good oral health, the basic cleaning approach is known as prophylaxis, a term derived from the Greek for guarding or preventing beforehand. The techniques used in a prophylaxis remove both "coronal" (tooth surfaces visible above the gum line) plaque and staining, providing both therapeutic and cosmetic benefits.
A typical prophylaxis includes a procedure known as scaling. Hygienists use special instruments known as scalers to remove plaque and calculus by hand, or an ultrasonic device that vibrates plaque loose and is flushed away with water. The procedure removes that rough coating you often feel as you rub your tongue against your teeth, leaving the tooth surfaces feeling smooth.
Tooth polishing is a subsequent procedure to scaling that also removes plaque and surface stains. Polishing is carried out with a motorized instrument with a rubber cup in which a polishing (or "prophy") paste is contained. The hygienist moves the rapidly rotating cup filled with the paste over the tooth surface to remove plaque and stains. The end result is a highly smooth surface and a much shinier appearance.
People with dental insurance plans are often concerned tooth polishing may be viewed strictly as a cosmetic procedure, and thus not fully qualify for benefits. This should not be the case if coded properly: tooth polishing is part of the overall prophylaxis to remove plaque and staining. The primary purpose is therapeutic and preventive; the cosmetic effect is a by-product. Most dental plans will cover one or two prophylaxes (scaling and tooth polishing) a year, but there are variations so individuals should check their plans.
If you would like more information on dental cleaning, please contact us or schedule an appointment for a consultation. You can also learn more about this topic by reading the Dear Doctor magazine article "Tooth Polishing."
By Cromeyer Dental Care
November 24, 2017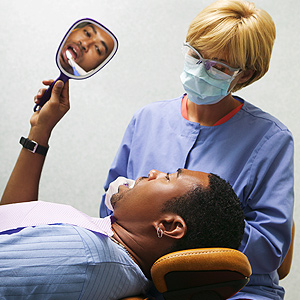 Every good oral hygiene regimen has two parts — the part you do (brushing and flossing) and the part we do (professional cleanings and checkups).
But what's involved with "professional cleanings" — and why do we perform it? The "why" is pretty straightforward — we're removing plaque and calculus. Plaque is a thin film of bacteria and food remnant that adheres to tooth surfaces and is the main culprit in dental disease. Calculus (tartar) is calcified plaque that occurs over time as the minerals in saliva are deposited in bacterial plaque. It isn't possible for you to remove calculus regardless of your efforts or hygiene efficiency. Ample research has shown that calculus forms even in germ-free animals during research studies, so regular cleanings are a must to keep you healthy.
The "what" depends on your mouth's state of health and your particular needs. The following are some techniques we may use to clean your teeth and help you achieve and maintain healthy teeth and gums.
Scaling. This is a general term for techniques to manually remove plaque and calculus from tooth surfaces. Scaling typically encompasses two approaches: instruments specially designed to remove plaque and calculus by hand; or ultrasonic equipment that uses vibration to loosen and remove plaque and calculus, followed by flushing with water and/or medicaments. Scaling can be used for coronal maintenance (the visible surfaces above the gum line) or periodontal (below the gum line).
Root planing. Similar to scaling, this is a more in-depth technique for patients with periodontal disease to remove plaque and calculus far below the gum line. It literally means to "plane" away built up layers of plaque and calculus from the root surfaces. This technique may employ hand instruments, or an ultrasonic application and flushing followed by hand instruments to remove any remaining plaque and calculus.
Polishing. This is an additional procedure performed on the teeth of patients who exhibit good oral health, and what you most associate with that "squeaky clean" feeling afterward. It's often performed after scaling to help smooth the surface of the teeth, using a rubber polishing cup that holds a polishing paste and is applied with a motorized device. Polishing, though, isn't merely a cosmetic technique, but also a preventative measure to remove plaque and staining from teeth — a part of an overall approach known as "prophylaxis," originating from the Greek "to guard or prevent beforehand."
If you would like more information on teeth cleaning and plaque removal, please contact us or schedule an appointment for a consultation. You can also learn more about this topic by reading the Dear Doctor magazine article "Teeth Polishing."